Here are some emails from past puppy buyers. I'm happy to hear about my puppies in their wonderful homes.

Shoney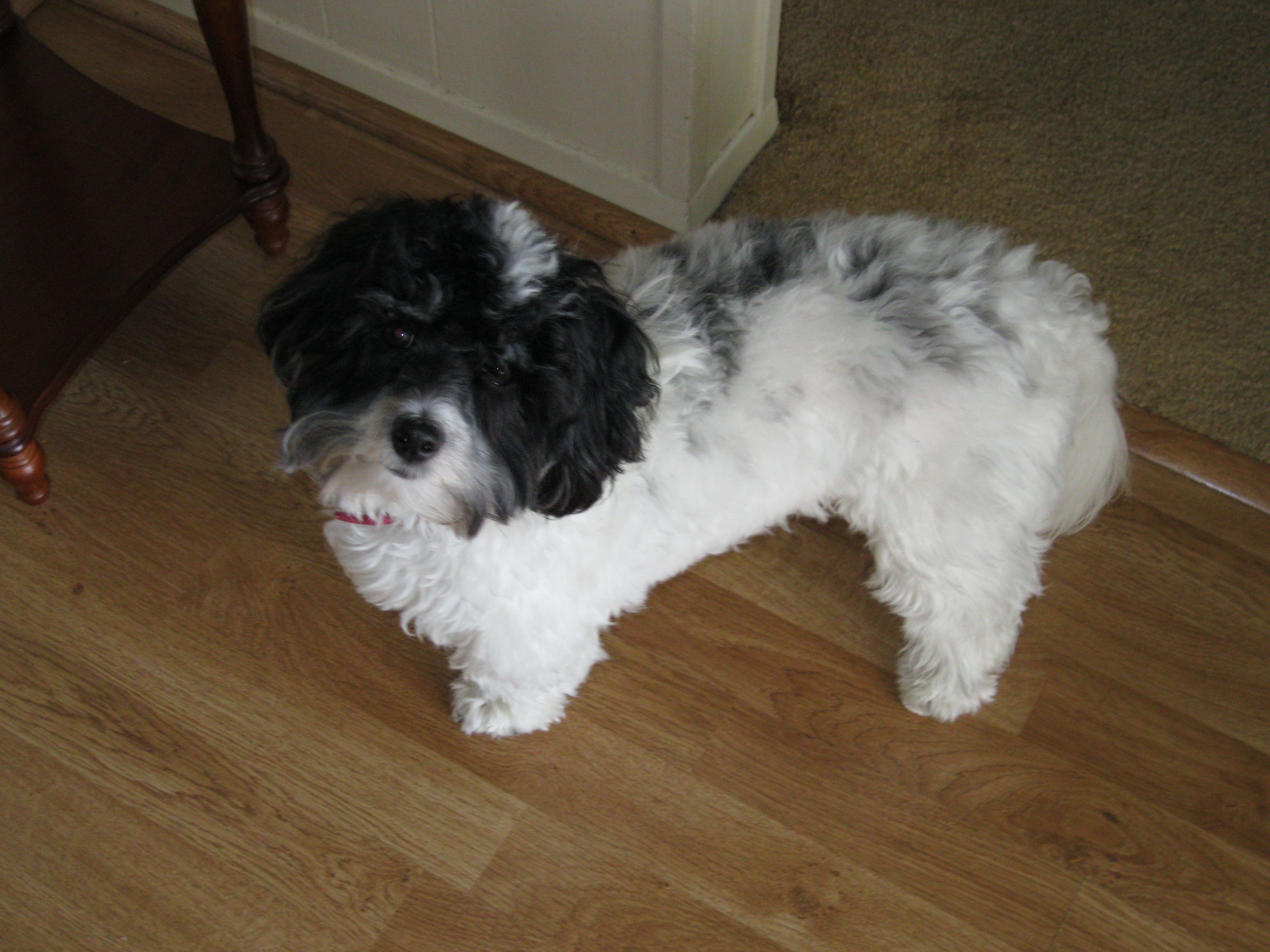 Black & White Parti Belton
He is such a lively little fellow - loves to play with a tennis ball (all day if we could do it)
He even plays lots by himself if we don't throw the ball
He likes to run and chase the ball in the back yard
At last weigh in, he was 11-1/2 lbs
Still a little rascal, with a mind of his own - thinks he is the alpha dog!!!
But he is a good boy, too and housebroken, so we can leave him in the house by himself for a few hours
He goes with us in his crate when we visit relatives - he especially likes the relatives that have dogs
Are you going to have more puppies soon?
Judy

Trip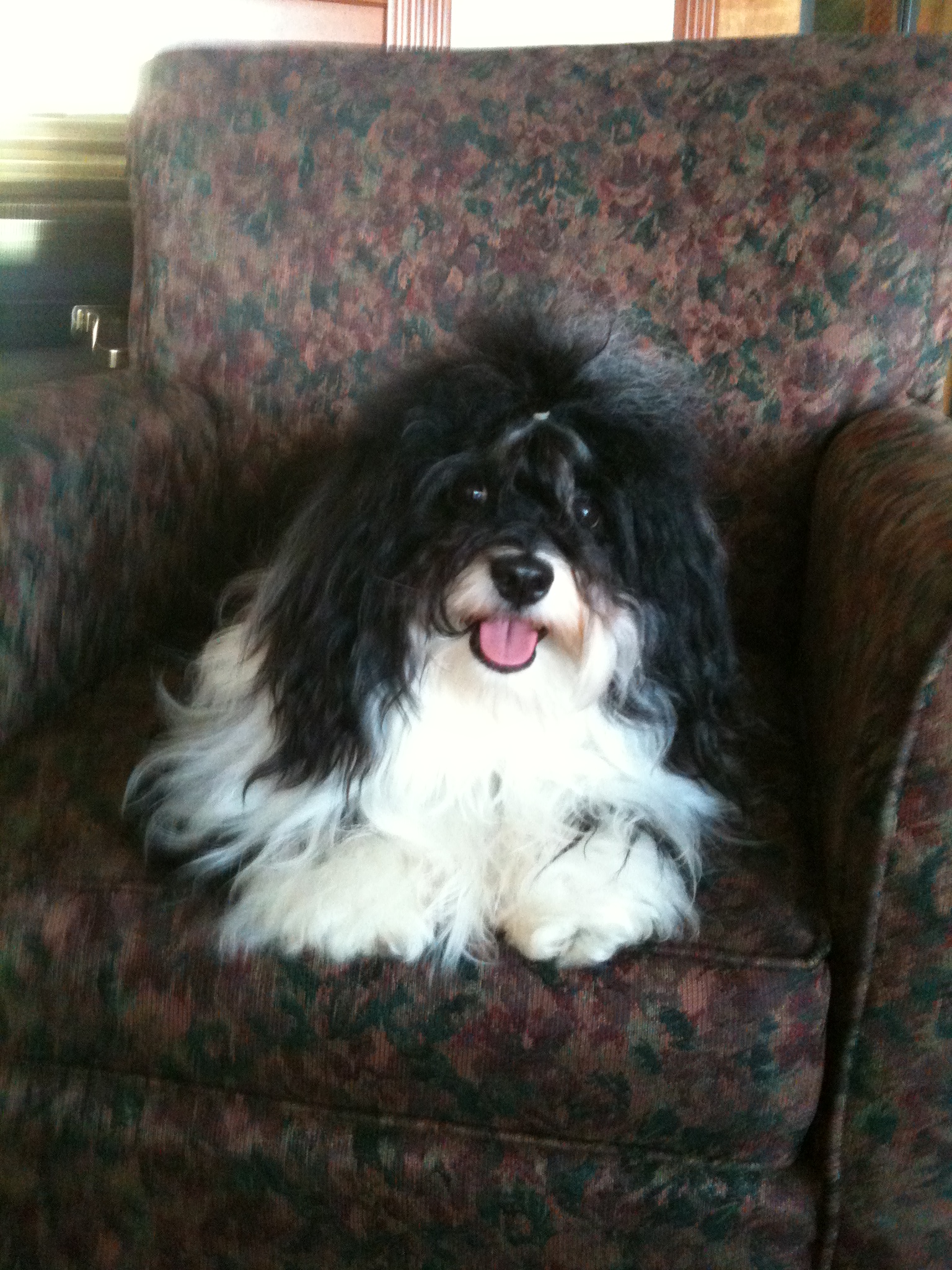 Black Irish Pied
Hi Deb,
I cannot begin to tell you how wonderful my little guy is!! Right from the start!!
The very first night I let him sleep on my bed and that is where he has been to the present. He has brought more joy to all of my family than you can imagine. Everybody wants "Trip". My parents adore him and my daughter and grandchildren want to keep him. He never lets me out of his sight and that started from the beginning also! We have gone just about everywhere-Dillards, Macy's, the mall in general, Talbots, the different pets stores, the park, and around my parents senior mobile home part, where we are continually stopped to talk to by the residents. There are also some wildlife residents in the park (bunnies, ducks, squirrels and quail), which "Trip" is very fascinated about. I have got to share with you some of "Trips" comical ways. Fathers Day, in which I had just had him 4 days, I left him with my parents to run down to Marie Callenders to get a pie. My mom told me after I left, Trip kept bouncing at the front door trying to grab the lock---guess he wanted to go with me----LOL--then he went into the guest bedroom put his front paws on my suitcase which was on the floor and started howling-yes, howling. My Mom & Dad said it was so funny, yet they couldn't help but feel badly for him. LOL. What a great dog!! I love him to pieces. I can't think of my life without him!
Well, I just wanted to share with you and tell you we are having a great life!!!
Hugs & Pawprints, Lee & Trip

Cosmo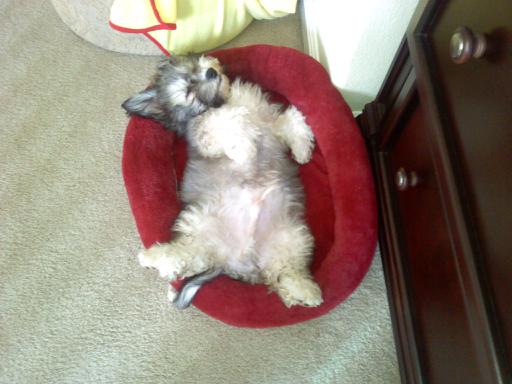 Gold Brindle
HELLO DEBBIE,
AS PROMISED, I'M SENDING YOU A PICTURE OF COSMO, TAKEN YESTERDAY AS HE WAS HAVING A NAP AND VERY RELAXED! HE IS A VERY VERY GOOD DOG! SWEET AND PLAYFUL AND GETS ALONG WITH LUCY, AS BEST AS HE CAN. LUCY IS STARTING TO WARM UP TO HIM AND THEY FOLLOW EACH OTHER ALL OVER THE PLACE. COSMO IS DOING VERY WELL NOW WITH IS POTTY TRAINING. HE GOES TO THE DOOR WHEN HE NEEDS TO POTTY IN THE BACK YARD AND WE PRAISE HIM VERY MUCH. JUST AS YOU HAD SAID, COSMO COPIES LUCY WHEN SHE GOES POTTY SO HE HAS LEARNED FROM HER AS WELL. COSMO PLAYS A LOT AND RUNS LIKE MAD, VERY FUNNY AND SWEET. HE SLEEPS IN HIS CRATE ALL NITE WITHOUT A PEEP 'TILL JUST ABOUT 6:30AM. OVERALL HE IS HAPPY HERE AND HAS MADE THIS HOME HIS HOME. WE LOVE HIM AND EVERYBODY IS CRAZY FOR HIM!
BEST REGARDS,
Blanqui Navarre
Navarre and Associates,Inc.

Bella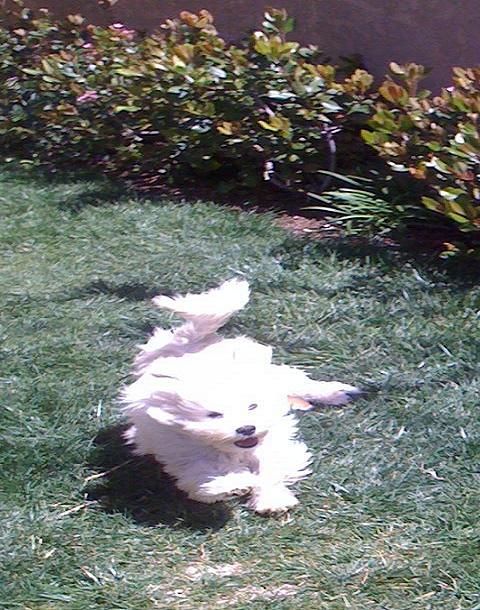 Dear Debbie,
Hope all is well with you!!!! I wanted to give you an update regarding Bella, she just passed her Therapy dog test and I'm waiting for the official paperwork to be approved. Bella and I have been attending an Agility class for about a year now and she is cautious about the teeter board and the instructor and I are working very slowly on building her confidence. She is a pro with the other obstacles. The instructor calls her a princess. I'm also currently finishing up an apprenticeship program with Wags & Wiggles to become a certified dog trainer. Purchasing Bella has changed my whole life. I've never loved anything so much beside my daughter as I love Bella. I can't thank-you enough for such a wonderful and awesome Dog. Attached are some photos of Bella. Hope to hear from you soon.
God Bless you Debbie,
Pam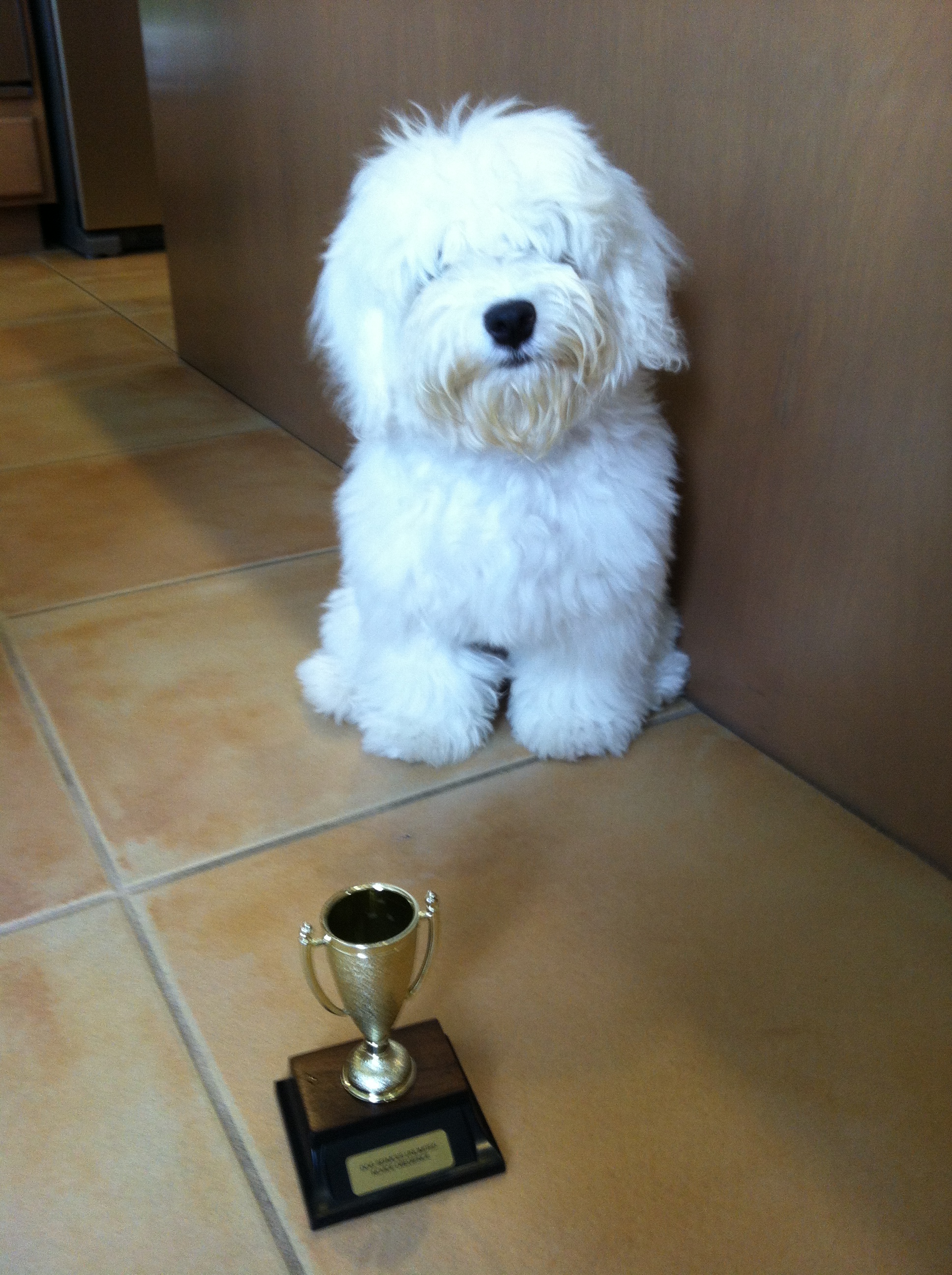 Havanese puppies for sale, Havanese puppy, 'Havanese dogs', 'Havanese puppies', 'Havanese dog', 'Havanese breeders', 'Havanese breeder', 'Havanese breed', 'Havanese sale', 'Havanese puppies for sale', 'Havanese for sale', 'California', 'Havanese OC', 'Havanese dogs', 'Havanese puppies', 'Havanese puppies California', Havanese, 'California Havanese', Havanese dog breeders, Havanese puppies California, Havanese puppies for sale California, Havanese for sale, Havanese dog for sale, Havanese, Havanese dogs, Havanese California, Havanese breeders California, Havanese dog California, Havanese dogs for sale, Havanese puppies for sale, Havanese puppies, Havanese puppies for sale in California, Havanese, Havanese pet breeders, 'Bichon Havanese', 'dog Havanese', 'Havanese Bichon', 'Havanese club'